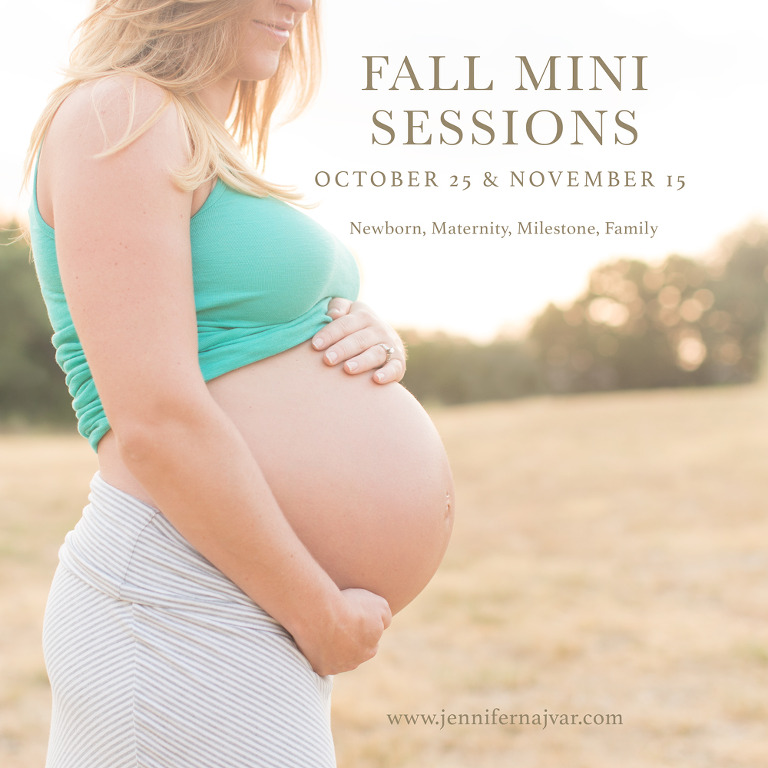 The season hasn't quite begun to change yet here, but in anticipation of those crispy Autumn mornings, I am announcing 2015 Fall Mini Portrait Sessions.  There will be two open dates with only six spots available.  These sessions are offered only a few times each year, and they are an absolutely fantastic chance to get professional portraits.  Newsletter subscribers and existing clients always receive advance notice and priority scheduling.
Session
$75 for Your 20-Minute Outdoor Sunset Session in North Austin 5 Image Proofs Presented Open to Newborn, Maternity, Milestone, and Family! 6 Spots Available
Date & Time
Sunday, October 25, 2015 6p / 630p / 7p
Sunday, November 15, 2015 430p / 5p / 530p
Prints & Products
Standard a la carte pricing available on prints and products
Digital Folios
Single Image $75 Any 3 for $150 Complete Set of 5 for $200
Scheduling
Limited sessions available on a first come, first served basis Payment of the session fee will reserve your spot
Jennifer Najvar is a Newborn and Maternity photographer in Austin, Texas.  Newborn Sessions are scheduled during the first 14 days after your baby's arrival. The best time to reserve your Newborn photography session is during your pregnancy before you reach 30 weeks.