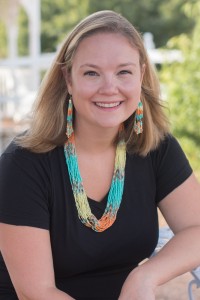 Most of the pregnant women I've ever known have taken a Lamaze class.  My mother took it when she was pregnant with me.  It was not until very recently that I first heard the term 'hypnobirthing.'  My first assumption – based solely on the name – was that it might be a little progressive for a lot of women, appealing moreso to moms who have already decided they want a natural birth, probably not in a hospital, and definitely without an epidural.
Jenny Dombroski of HypnoBirthing of Central Texas is one of Austin's few providers of HypnoBirthing childbirth classes in Austin and the surrounding areas.  Jenny earned a Bachelor of Science in Family and Child Development with a minor in Psychology from Texas State University.  She recently made an appearance as a featured guest on the 'Rockin Dads' podcast to discuss pain coping and Hypnobirthing.  The mother of two young children, she has served Austin and the surrounding areas as a childbirth educator for more than three years.  This week, I met with Jenny at Central Texas Birth Center in Georgetown, Texas, and asked her to shed some light on the Hypnobirthing method.
First thing's first: What is Hypnobirthing?
HypnoBirthing  is a method of birthing that focuses on bringing babies into the world calmly and peacefully.  Through relaxations, visualizations, breathing techniques and education, moms and babies work together to meet each other.  Families are taught about the many facets of birth and how to make the most of out their experience. Birth companions are also given the tools that they need to properly support the laboring mother.   The class is a five-week series. Class materials include a book, cds, a workbook and a couple of fun goodies.
How does it compare to Lamaze or other childbirth education? Is it an alternative or a compliment to other childbirth education?
Lamaze is an older method, and some of the tenants of HypnoBirthing expand on this original idea.  Lamaze focuses on breathing techniques and the physical attributions of labor and is not, I feel, a complete class. HypnoBirthing helps families both physically, mentally, and emotionally. That, along with the education, gives my families the tools to really relax and control their labors.
It can be a compliment to another class.  I'm a huge proponent of education; but, it will act as an all encompassing class as well.   A family could just take HypnoBirthing and have all they need.
What does it have to do with hypnosis?
I use the term "hypnosis" lightly as it's not really what we do in class, at least not the type of hypnosis most people have come to know.  I can't make you bark like a dog or hop on one foot, although, wouldn't that be fun?
The hypnosis technique used in class and ultimately during birth is really the same state that you go into when you "zone out." When you take the same long route home that you have taken for the past five years, you aren't as acutely aware of the details as you would be driving somewhere new.
The mom is able to utilize this "zone" to focus on working with her baby and helping her body to stay relaxed.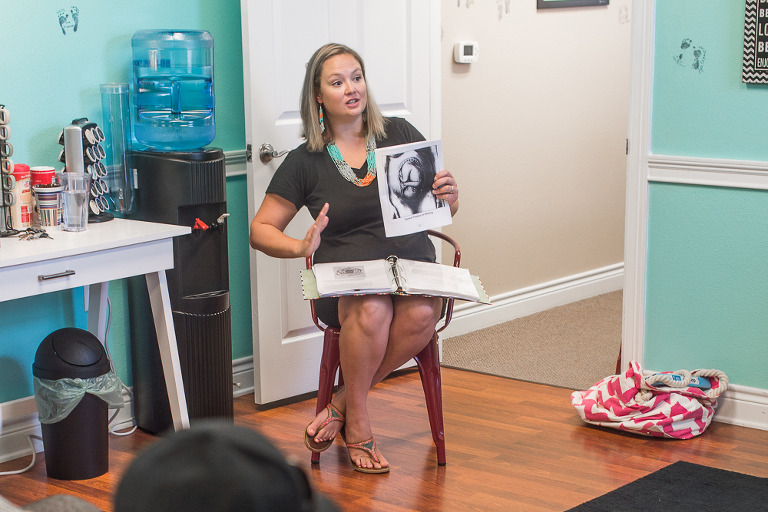 What kind of certification is required to teach Hypnobirthing?
Certification is an intensive three-day course including about 30 hours of education.  Continuing education every year is then required to keep your license.
Is this a new technique? How many people are choosing Hypnobirthing; how widespread are Hypnobirthing classes?
HypnoBirthing is celebrating its 25th anniversary this year! It has been around for a while, but has taken time to circulate.  It is expanding each year! Even within my own practice, I've seen steady increases from year to year.
At what point during pregnancy should the mother start the class? Is this something that you exercise throughout pregnancy, or only during the delivery?
I would love to see every mom around 30 weeks, even though I've seen some as early as 12 weeks and as late as 38 weeks.  The relaxations are a conditioning, so the more you practice, the more it enhances your experience.  Moms use it toward the end of pregnancy when sleep eludes them, and then its purpose continues until delivery and even after.  I still use the rainbow relaxation CD from the course to put my son to sleep; he listened to it in the womb every day and learned that it relaxed mom.  So, when I put it on, even outside the womb, it has that same effect.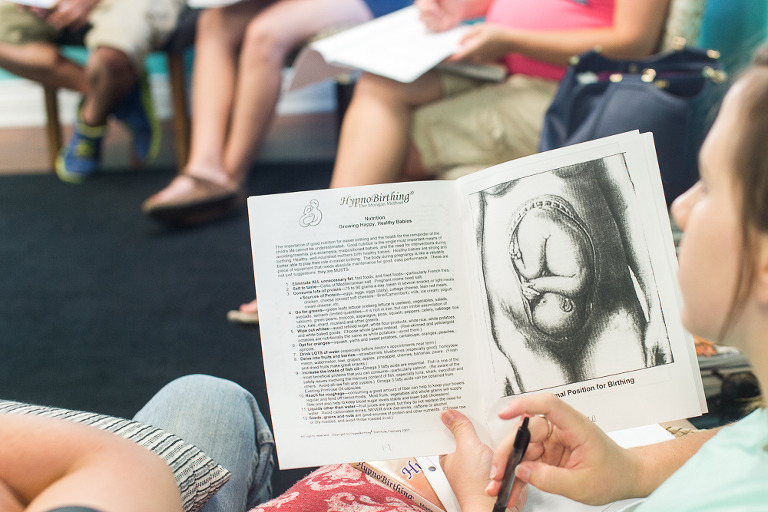 Can anyone use HypnoBirthing or just those planning a natural birth?
Anyone can benefit from HypnoBirthing.  All the tenants of HypnoBithing can be utilized during labor whether you plan to have an epidural or a natural birth.  Everyone benefits from education; when you know how to use something, you can use it to its full potential.
I imagine that there are many people who hear the term 'hypnobirthing' and immediately assume 'that's not for me.' Do you find that this appeals to one type of mom moreso than others?
I think that the name can be deceiving.  I usually ask that moms read all about HypnoBirthing before assuming it is not for them based on the course title. The value of a good birthing class is severely underestimated.  It can make all the difference in the world.  There are many methods out there to choose from, and I implore you to find one that you feel would best suit your needs.
What is your educational background?
I have a Bachelor of Science in Family and Child Development with a minor in Psychology from Texas State University in San Marcos, Texas.
How long have you been teaching Hypnobirthing?
I've had the pleasure of serving Austin and surrounding areas for over three years.
What led you to become a Hypnobirthing professional?
I became certified shortly after my first was born.  I had a traumatic experience, was trying to heal, and in my internet travels, I came across HypnoBirthing.  I flew out to meet the founder and the rest is history!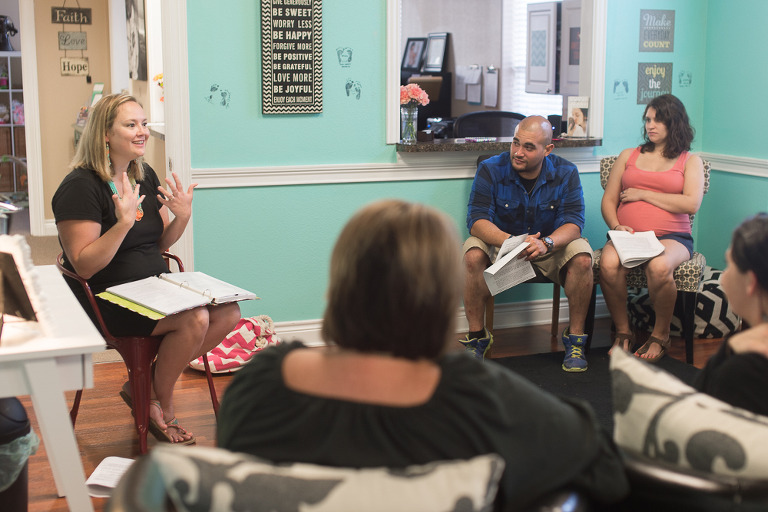 How do you think Hypnobirthing affected your second pregnancy compared to your first?
With both of my pregnancies I had pre-eclampsia.  This condition dictates a lot of pregnancy for the mom.
With the birth of my daughter (the first child), the minute that they said pre-eclampsia, I became anxious and scared about what going into labor meant for us.  I didn't have an idea about what my body was going to do, much less how to harness any of my power to help my situation.  I had lots of interventions and by hour six of labor, I felt wild and out of control.  I asked for all the drugs they could give me.  Recovery required six weeks before I could really get back into my routine, and I left feeling very defeated and sad.
With my son, I did HypnoBirthing from the beginning.  And when the same condition started to creep up, I was able to relax and focus on what needed to be focused on.  I had all the same interventions as with my daughter, but this time, the labor was significantly shorter, there was no episiotomy, and I chose not to have an epidural.  I felt amazing afterwards! I was back to my old self within two weeks, and I was so happy with my experience.  HypnoBirthing kept me calm and relaxed.
What type of pregnancies really benefit the most from Hypnobirthing? Is it right for everyone?
Everyone can benefit from the techniques and skills learned in HypnoBirthing.  It really encompasses all types of births in one class.
Why do you think most of your customers come to you? fear of labor? desire to have a natural birth? in order to have successful home birth? more economical? after a difficult prior delivery?
All of the above! I've met families from all different types of previous experiences and backgrounds, all of them planning different births.
How will a father or birth companion benefit?
Birth companions will receive extensive education about what they can do to bring comfort and calm to the working mother.
Do most of your clients end up having a home birth? hospital delivery? birthing center?
Because my birth story was in a hospital, 60% of my clients deliver in the hospital.  The other 40% are a mix of birth center deliveries and home births.
Do most of your clients also use a midwife or doula?
I always recommend a doula.  I'm a huge advocate for the birthing mother.  The family needs all the support that it can get, and sometimes an outside source of support is greatly appreciated!
Where do you offer classes? How long is the course? In addition to the class, what other services are offered?
I offer classes out of Central Texas Birth Center in Georgetown and Austin Born in Central Austin.  The course is five weeks, and we meet for about two hours each class.  I also teach breastfeeding courses at Central Texas Birth Center, and my families are able to utilize those as well.
To learn more about Jenny and Hypnobirthing Childbirth Education in Austin and the surrounding areas, check out:
Jenny Dombroski
Hypnobirthing of Central Texas
Austin, Texas
Phone: 512-743-1871
Email: jennydombroski@yahoo.com
Facebook: @HypnobirthingTexas
Jennifer Najvar is a Maternity and Newborn photographer in Austin, Texas.  Newborn Sessions are scheduled during the first 14 days after your baby's arrival. The best time to reserve your Newborn photography session is during your pregnancy before you reach 30 weeks.