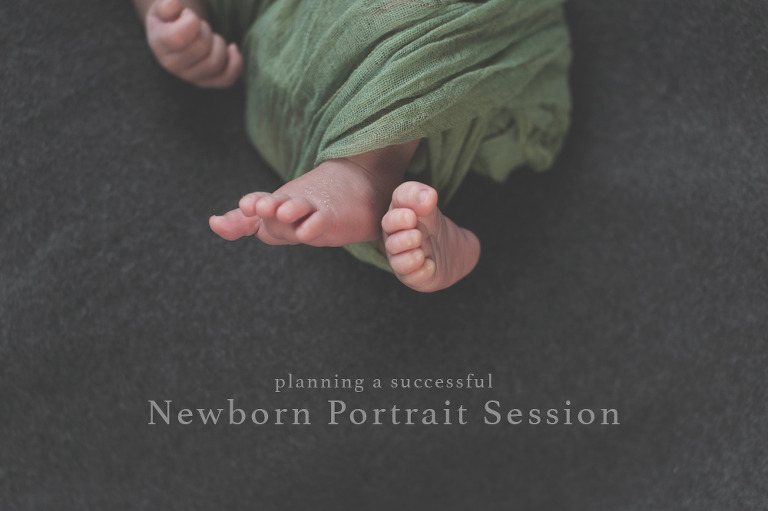 By the time the parents of newborn clients see their newborn portraits two short weeks after their session, their little one will have grown and changed, already, so much.  He won't fit exactly the same way in their arms; he won't stay quite as curled up in that adorable newborn position.  And it won't be long before he's lifting his head, and rolling over on his own.  
This is the reason newborn portraits are such a wonderful gift.  This magical stage is fleeting, and I love presenting families with portraits that they will never be able to get again.  They look at me and say, "Wow, I cannot believe how much my baby has changed!"  And as they do, their newborn portraits will become an ever more valuable gift.
Let's talk about what you need to know in order to plan a successful newborn portrait session. 
1. Book early
Be sure to contact us during your pregnancy.   The best time to reserve your Newborn photography session is during your pregnancy before you reach 30 weeks to ensure availability. Although we will try to accommodate you at any stage, please don't wait until your baby is here to schedule your session! Newborn Sessions occur during the first two weeks of your baby's arrival. During your pregnancy, we will reserve a tentative session date based on your due date. After you deliver, reach out to me as soon as possible to let me know that your little one has arrived, and we will finalize your session date for the soonest possible opening within the first 14 days.
2. Schedule your session within the first 14 days
The ideal time to photograph a newborn is between five to ten days, and no later than the first two weeks. Why is this so important? For the style of portraits offered, it is always best to photograph your baby within the first 14 days so that they stay in that adorable curled position and stay asleep for as long as possible.  Beyond two weeks, newborns will begin to stretch out their legs and come out of that womb-like position. They begin to get much stronger, lifting their heads, and they will sleep less.  The older they get, they will become much more alert, and as their vision improves, they will likely become more stimulated at the portrait session making it much more difficult to get them to sleep. In those early days, they're much more limber, allowing for adorable poses that you see in our Newborn Portfolio.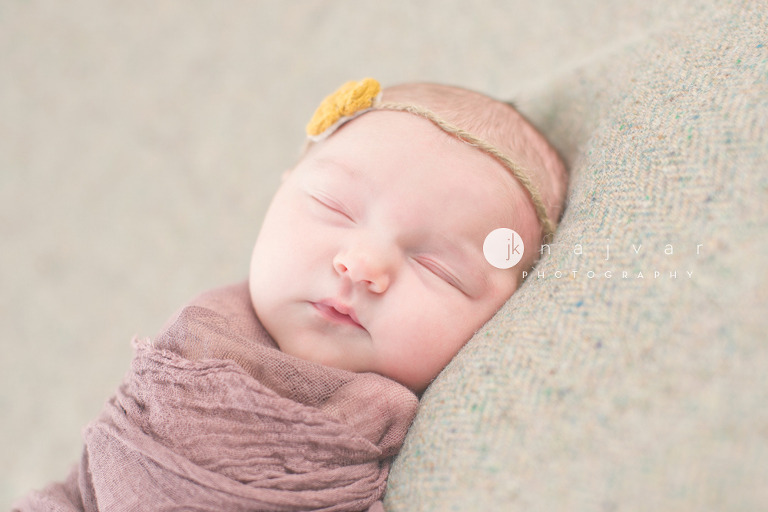 3. Don't forget Maternity portraits
Of course, it's all about the baby. But, documenting your own journey into motherhood is equally important in your life story as the arrival of the baby. Newborn clients receive $100 off the Sunset Maternity Session.  Maternity portraits are usually scheduled between 28-34 weeks, and sometimes much later (37-38 weeks) to ensure the belly is nice and round.  With a twin pregnancy, there are additional considerations. Twin maternity sessions are recommended at 28-30 weeks (no later than 30). Carrying a child is one of life's greatest gifts. Take a portrait that you can pass along to that child, which brings me to my next and most important point…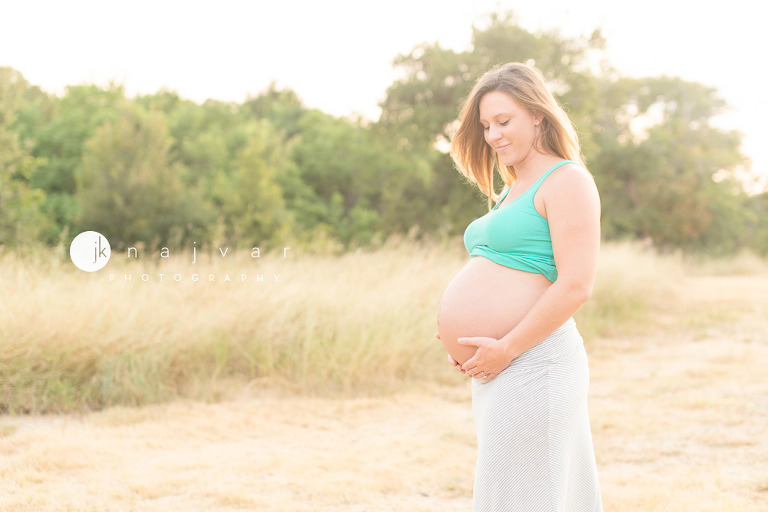 4. Exist in photos for your children 
Plan to take parent shots during your newborn session. Yes, you're exhausted and overwhelmed, you may feel insecure about your changed body, and it was probably a challenge just to get out of the house with your newborn. But use the opportunity to take a family portrait. Do not just collect photos of your child; exist in photos with them. Your child does not care if you looked a little tired, or if you were a few pounds heavier than you wanted to be that day. To have a professional family portrait with your new baby will be a moment captured that you will treasure years down the road. More importantly, one day those photos of you together will become the most valuable images your child owns.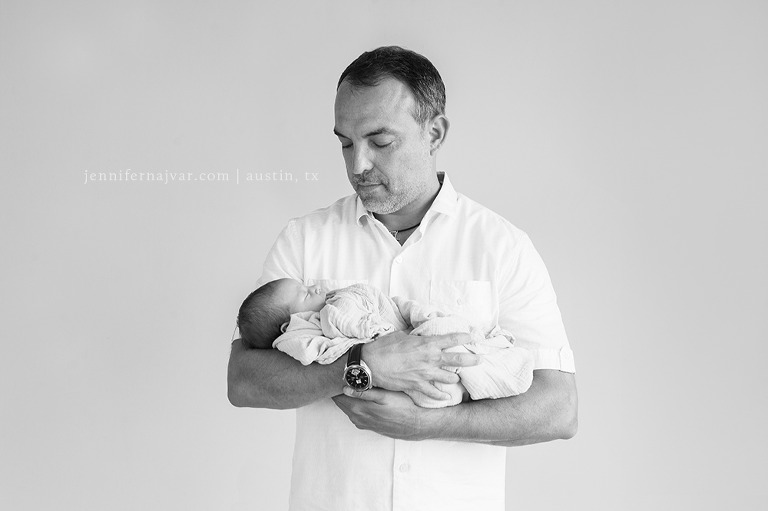 5. Be patient
Newborn sessions require between 2-4 hours. You may want to bring a book or your laptop, and be prepared to be in the studio for a while. There will likely be several breaks in order to feed, change or calm the baby during the session; the baby will dictate.  Often there will be accidents to clean up. This happens all the time and is fully expected.  A large portion of the session may be working to get the baby properly posed, which requires quite a lot of patience. Plan to sit back, relax, and the baby will let us know when the session is over. 
6. Dress in layers
Show up to your Newborn session dressed in layers. It will be very warm inside the studio. In order to keep a naked newborn from getting cold, you will likely be uncomfortably warm. Plan to take parent shots first, then you can quickly remove a few layers and relax.
7. Consider the future value 
Newborn portraits are invaluable because you can never get them again, and they become more valuable as time passes. Today they're important to you, in 18 years when that child leaves home, they will likely be even more important, and in 40 or 50 or 60 years, those portraits will be one of the most valued images that child has as they look back over their life remembering you.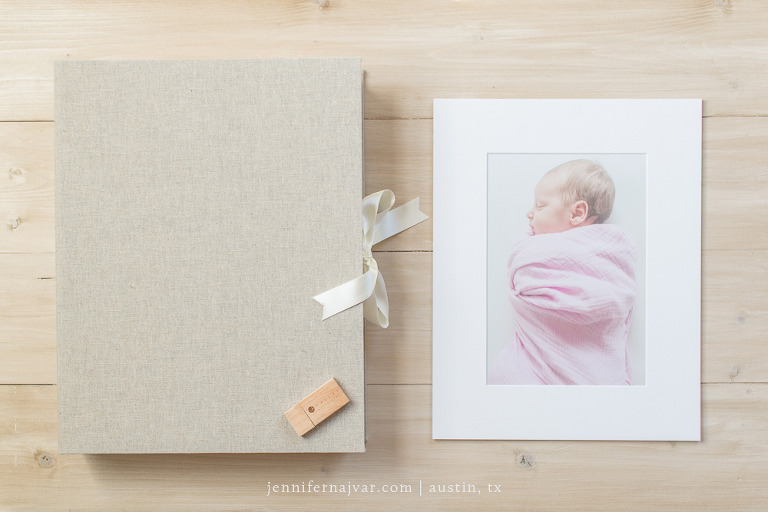 8. Discuss prints and products during the initial consultation
A custom Newborn portrait session is a luxury investment. The session fee includes the initial consultation, your 2-4 hour session in the studio, the photographer's time and talent, complete studio setup, complete post-session creative editing, and the presentation of your portrait proofs during an in-person Ordering Session. 
Be mindful that prints, products, and digital files are not included in the session fee. These can be purchased separately after viewing your proofs. All photographers structure pricing differently and offer a wide array of products to purchase. Similarly, each photographer will offer a different level of quality and customer service. With this in mind, ask for the product catalog, and make sure that you love the products offered. Some photographers may offer digital files, while others do not sell them at all. Review the product guide before you reserve your session to ensure that you know exactly what to expect of your total investment. 
Consider what you would like to do with your portraits. How do you want to see them every day? Do you want a large canvas in the nursery? An archival album that you can pass down to your child? A beautiful folio collection box on display in your living room? Gifts for the holidays or grandparents? Let's talk about the products you really want in advance, so that we can work together to achieve the best possible end result. We may shoot differently for an album versus a large wall portrait or gallery-wrapped canvas.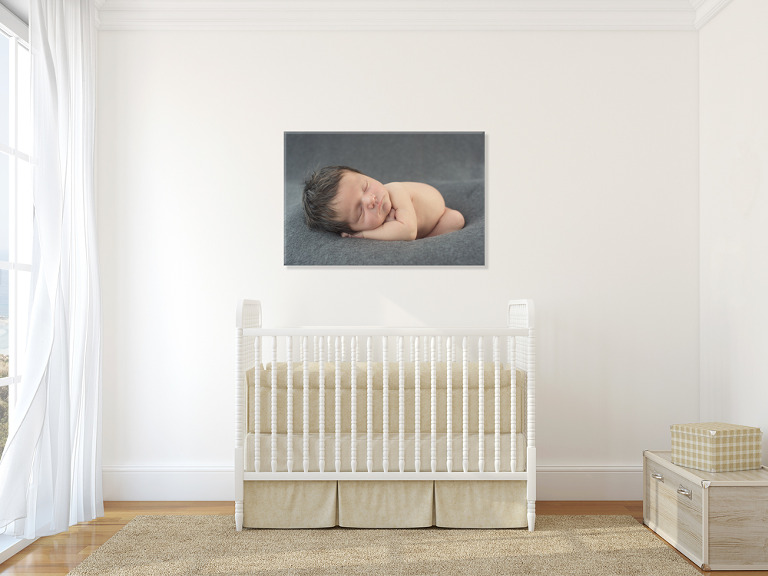 9. Think about your baby's first year
Newborn portraits are quite possibly the most important portraits you will ever purchase. Of course, there will be many more milestones to capture throughout the first year including tummy time, sitting up, crawling, and taking those first steps. Consider joining our First Year Baby Plan with a series of sessions to ensure that you will never miss a milestone. Compile your Milestone sessions into one beautiful fine art album or folio after the first year, or purchase boutique prints and products with each session. Newborn clients join the plan at a special rate.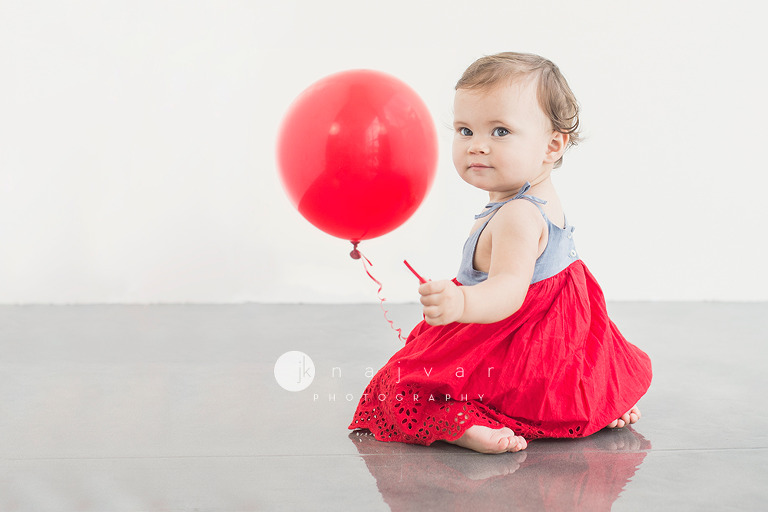 10. Sit back, relax, and let the photographer handle the baby
As a brand new mother, you may feel inclined to stay close and take a hands-on approach during the session. However, as long as the baby is aware that you are nearby, he/she will likely want to eat. It's okay to sit at a distance so that the baby doesn't sense your presence. Expect the photographer to handle the baby to position, reposition, change, and swaddle quite a bit. There are a lot of adjustments made to perfect those adorable poses. When the baby needs a little help falling asleep, we will ask you if you would like to feed. 
11. Be careful with Pinterest
Yes, Pinterest is a great resource for planning your wardrobe and looking at adorable newborn poses.  Keep in mind, however, the newborn portfolio includes poses and shots that have been practiced and perfected through significant trial and error. To recreate a specialty shot on the fly may present several challenges. To devote a good amount of session time attempting to recreate a Pinterest image which may or may not turn out perfectly is not usually advised.  Our time will be best spent doing what we do best, creating the images that you hired us to create.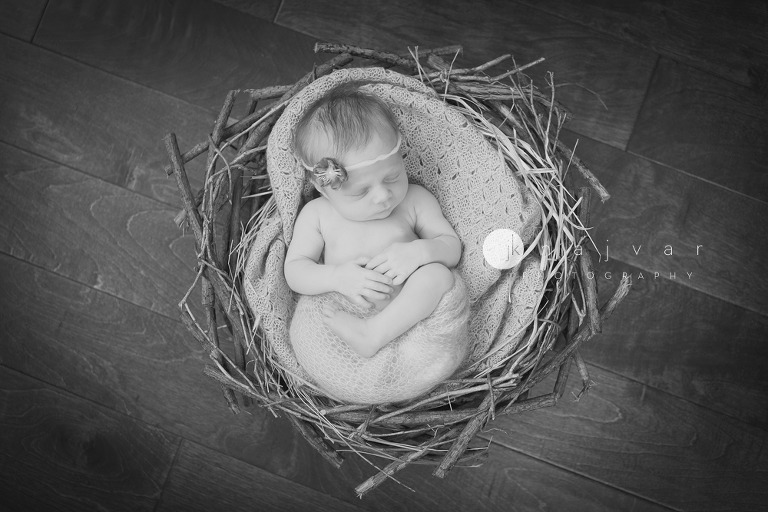 12. Choose a photographer with a portfolio and a style that you love
Hire a professional who is aligned with your artistic sensibilities. Photography is highly specialized. Posing a newborn in a studio is not the same as coming into your home for a lifestyle session; each requires a different skill set. Every photographer has a unique style which will influence their selection of props, setup options, color choices and overall aesthetic. For the best results, choose a photographer with a portfolio that you absolutely love, and expect images that look like the photographer's portfolio. 
13. Send something special through the mail
Don't forget the birth announcements. Everyone loves finding a little something special in their mailbox. Our graphic designer can create a personalized announcement just for you. These can typically be delivered within one week after your Viewing/Ordering Session.  

14. Print your portraits
We believe that photographs are best presented in tangible form and not buried on a hard drive. Invest in tangible, archival, art products that will become family heirlooms. Digital files are not archival, but a printed image will outlive everyone in the photo. Technology quickly becomes obsolete. Files can be erased or become corrupted. Computers crash.  When you're no longer here, will your children be able to recover digital files saved to your computer hard drive? Probably not. But they will cherish those old family photo albums. We can always make a digital negative from a printed 8×10 image, but we cannot make a print from a corrupted digital file. It's so important to get our photos off our digital devices and bring them into our lives. Give your children the joy of thumbing through a box of old photos and passing them around a room.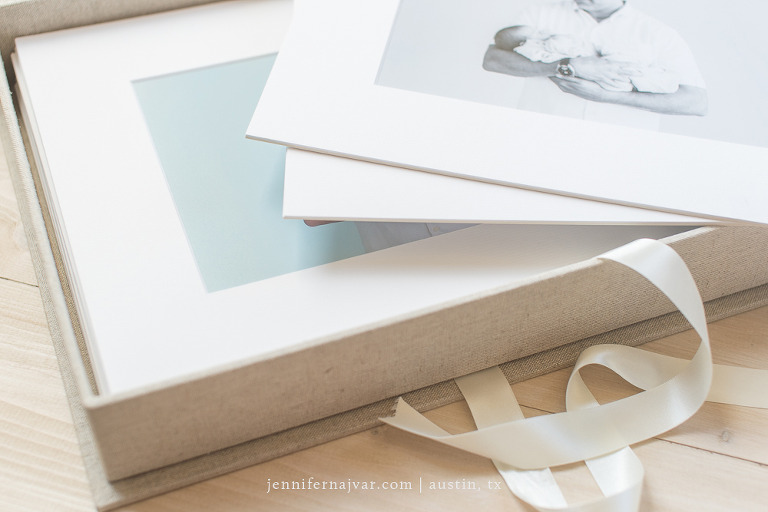 Jennifer Najvar is a Newborn and Maternity photographer in Austin, Texas.  Newborn Sessions are scheduled during the first 14 days after your baby's arrival. The best time to reserve your Newborn photography session is during your pregnancy before you reach 30 weeks.