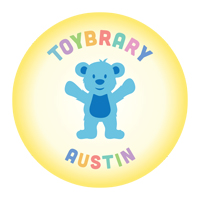 Two and a half years ago, Liza Wilson opened Toybrary Austin on the north side of town near Mopac and Anderson Lane.  A library of more than 1,000 toys, Toybrary enables parents with a membership to check out toys, take them home, keep them for as long as they like, and then exchange them for other toys.  Primarily a lending library, the shop also offers birthday parties, a drop-in play space, special events and activities, parenting classes, classes for children, and drop-off childcare. 
Liza holds a Master's in Foreign Language Education, a Master's in Education Administration, and has an extensive career in education. Her professional resume includes working as a French teacher in public school for K-6 students, a French Montessori teacher, she was the founding director of Austin's French School (formerly Le Lycée Français, now Austin International School), a consultant for Child Inc. (Head Start), a student teacher supervisor through Region XIII, and a French teacher at The Khabele School. A love of children and a desire to share high quality educational toys with families became the driving force behind the creation of Toybrary. The store has generated enough interest that a plan to license the concept in other cities is already underway. I recently sat down with Liza to learn all about Toybrary Austin and the toy-sharing trend.
What is Toybrary? How does it work? 
Toybrary Austin is a toy lending library, play space, and birthday party venue for kids six months to five years old. Parents and kids can drop in anytime to play for just $5, and stay as long as they like. Those who would like to borrow toys may sign up for a membership for three, six, or twelve months.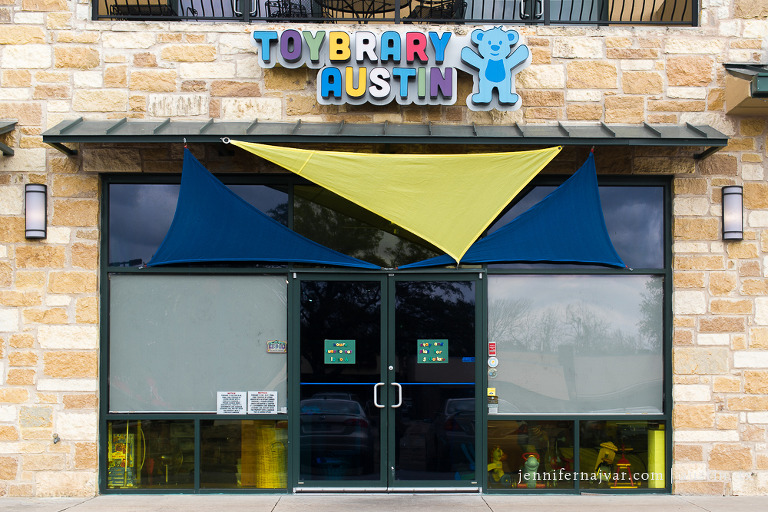 In addition to lending toys, what other services are available for parents?
We also hold lots of other types of events including various classes for children, parenting classes, lots of fun holiday celebrations, drop-off care on Tuesday and Thursday morning (and sometimes by appointment), Parents' Night Out on Fridays from 5-8p, arts and crafts classes, storytelling, drop-in music and dance classes, concerts – the sky is the limit!
How often are most members exchanging toys? 
About once per week.
Do you also lend books? 
No, because they are free at the library! That being said, some "kits" for check-out include toys with books that fit the theme.
Do you need a membership to attend events, for drop-off services, or to drop in to play without checking anything out from the toy library? 
No, the monthly membership is only needed to check out toys.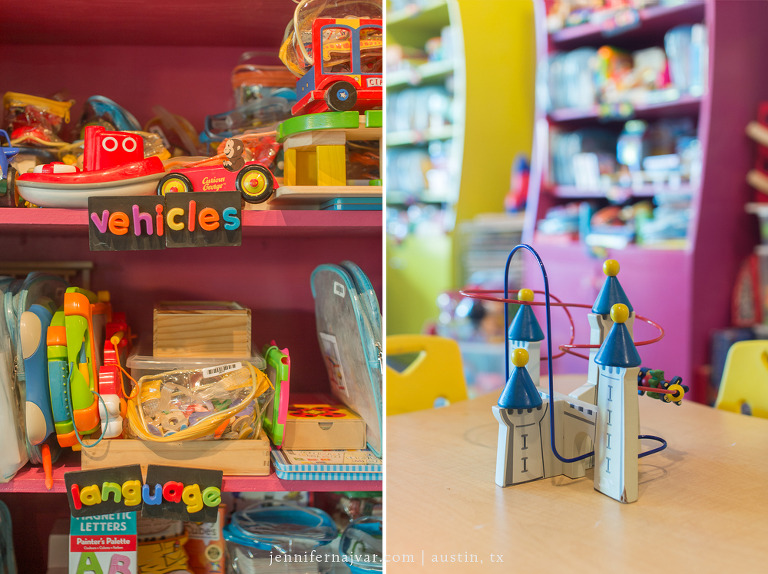 How did you come up with the idea to apply the library model to toys? 
There used to be a toy lending library in East Austin, and I used to borrow toys and educational materials from it when I was a preschool teacher. It was brilliant, and the first time I stepped foot in the store, I knew I would create my own one day. The difference between the others out there, and there are maybe 50 in the U.S., is that they are all non-profit, grant funded, and located in low-income areas. I'm the only one doing it as a full-fledged business.
As an educator, from the perspective of early childhood development, why is borrowing toys beneficial for children and parents? 
During the toddler/preschool years, kids' brains are going absolutely crazy. They are learning at such a rapid rate that they move very quickly from one concept to the next. This means that they will grow out of and get bored with toys very quickly. This was my primary reason for opening Toybrary Austin–to supply high quality, educational materials to kids in order to support their mental and social development. Secondly, I'm a huge sharer of ideas and resources. I don't see any point in keeping good ideas or materials to myself. It makes me happy to share my knowledge of education and my resources with others. Thirdly, there is absolutely no reason for parents to endlessly buy toys to keep their children occupied. These can be shared, just like many other things in life (tool and heavy equipment rental, tuxes, etc.). I'm so thrilled to finally see that a website was created where women can rent beautiful designer gowns. It makes so much sense!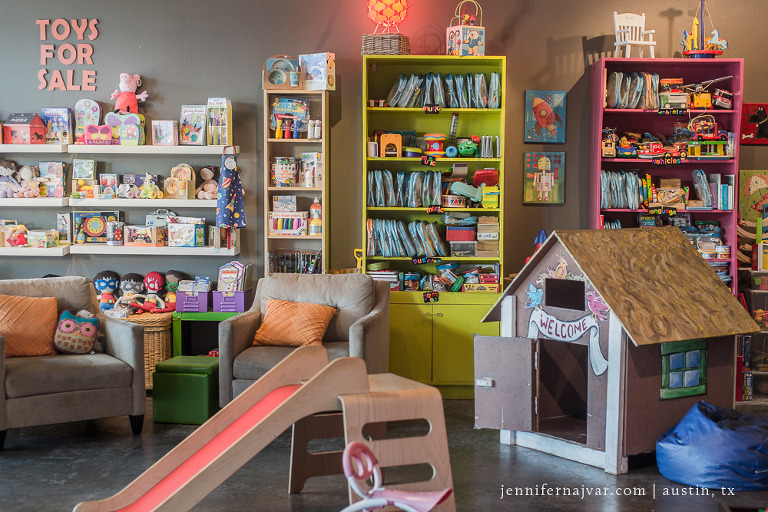 You hand-select the toys in the library to inspire creativity and imagination. In your opinion, what makes a good toy? 
Old fashioned toys are the very best. Kids don't need all of this plastic stuff that lights up and makes sounds. In fact, in my opinion, these types of toys slow them down. They entertain the child, rather than inspiring the child to be creative with them. For example, a toy lion that flashes and growls is entertaining the child, not asking the child to discover it. Playing with a nice wooden lion inspires the child to make it move and make sounds for it. This is learning. The other is not. Apart from that, studies have shown that when children play with toys with batteries, the parent interacts with the child less. More parent conversation and interaction happens when a child is using a simpler toy and the children and parents are making it "talk" and go on adventures together. We want children to develop as much vocabulary as possible, and this is how it happens! 
According to your website, the average family in the U.S. spends $740 a year on toys if they have one child, and $1,200 a year on toys if they have two children. Overall, parents spend 66 percent more on child rearing than they did 10 years ago. Why are parents spending so much more? Why are we giving our kids increasing stockpiles of toys to the point that our houses are overflowing with them, many of which are hardly used at all?
Parents so want to do the right for their children, and they often feel that they are doing this by buying them lots of toys. Through a place like my store, children can still explore lots of toys, but borrowing teaches them to take care of things, to share, and to be responsible. I don't think any business has offered a good option to accumulating too many toys in the home, and that's where I hope to fill in the gap.
I would think that every parent who learns that they can borrow toys rather than buy would jump at the opportunity. Do you find that this sharing mentality is catching on? 
People are very excited about it and are definitely spreading the word! Most people are fascinated by the concept and really happy that I'm doing it. They tell their friends, so I have a constant stream of new visitors, which is wonderful!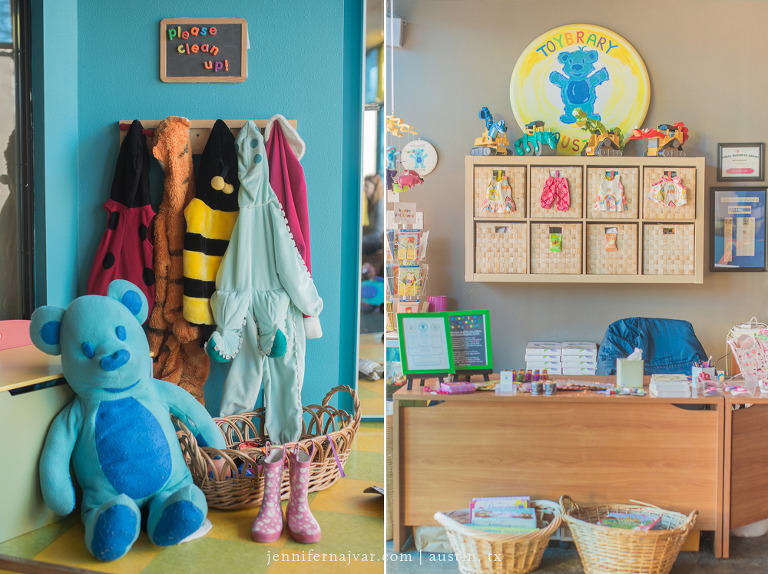 I personally feel a kind of sad nostalgia for the old analog toys that I grew up loving; Lincoln Logs, Lite-Brite, Mr. Potato Head. Do kids still take interest in these kinds of toys? Do you think that toys today are better? 
They absolutely love these "old" toys. Many of the "new" toys on the market are exactly like our old toys. Lots of people ask what the newest toy is, and I just tell them that kids like the same things they always have. Building materials, dolls, cars and trucks, pretend food, dress-ups, animals, shopping carts, etc. Nothing has changed in that regard, and there's no need for it to change! I am pleased that toys are now being made in more colors than before. For example, a set of blocks often now contains pink and purple blocks, whereas they only came in red, green, and blue not too long ago. I really like two of the newer concepts that are now popular – the engineering toys designed especially for girls, and dolls that are both male and female, in a variety of skin colors. 
These days, kids have far more toys, and the toys are so much more sophisticated than a generation ago. It seems to me that the 'analog' toys of my childhood have been largely brushed aside for the new and improved high-tech toys. When I was growing up, my dad used to tell me that he and his siblings could play with a cardboard box all day long and never get bored. Is there any school of thought that says kids cultivated more creativity and imagination before toys become so 'smart?' I can't help but feel that 'play' has changed dramatically and that we've lost something somewhere along the way. 
I absolutely agree with all of this. In fact, I think parents need to let their kids get "bored" sometimes, so that their creativity has to kick in. Constantly entertaining them is definitely depriving them of the room to explore that most of us had as children, which increases social skills, by the way.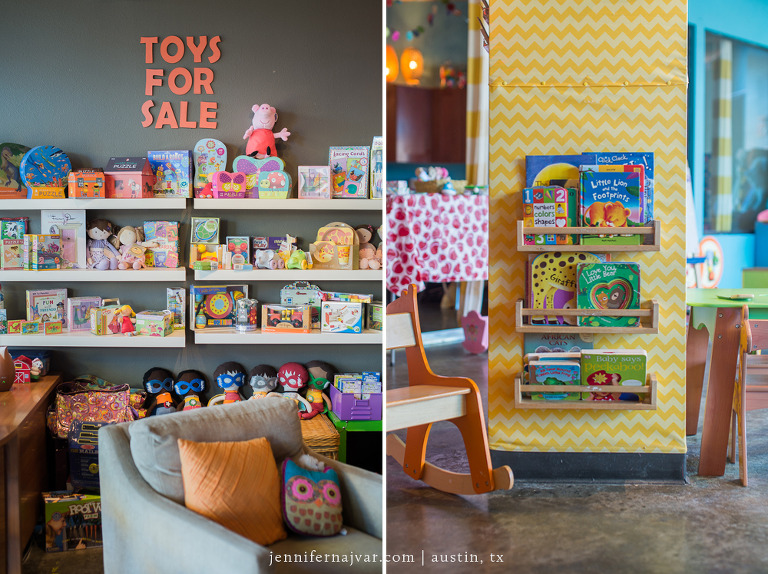 Do children these days have less imagination than previous generations? 
No, kids are the same as always. People just want to offer them new, flashy things, which often limits their imagination. Flashy, loud toys have the same effect on kids that TV does! 
You are also the founder of The Big Baby Bash, a huge expo for new and expecting parents, and School Fair ATX which both debuted in 2015. Will these be back? What else is on the horizon for you? 
These will definitely be back! We are planning Big Baby Bash 2016 right now, along with a FREE school directory that will be published in a few days. I'm working on these projects with my business partner for events, Jessica Glorieux. Personally, I am working on the legal paperwork that will enable me to license my business to others. I've had multiple people from around the country contact me, asking for advice on starting their own toy libraries. Some of them are interested in using my logo and systems (including custom software for toy libraries that I'm having created right now). There may be some interest in the Austin area as well, so keep your eyes and ears open!
When you think back to your own childhood, is there a specific toy that stands out in your memory as a favorite? 
I asked my mom, and she said I was obsessed with my doll Sally, but what I remember really loving was Spirograph!
To keep up with all the daily events and goings on at Toybrary, join their email list for the weekly newsletter, check the calendar in the store, or follow Toybrary on Facebook.   To learn more about Liza and Toybrary Austin, check out:
Liza Wilson, Owner
7817 Rockwood Lane
Austin, Texas 78757
Phone: 512-765-4174
Email: info@toybraryaustin.com
Facebook: @toybraryaustin
Twitter: @toybraryaustin
Jennifer Najvar is a Newborn and Maternity photographer in Austin, Texas.  Newborn Sessions are scheduled during the first 14 days after your baby's arrival. The best time to reserve your Newborn photography session is during your pregnancy before you reach 30 weeks.