Your wardrobe has been carefully selected, and you're ready to go. But wait. There's just one more thing…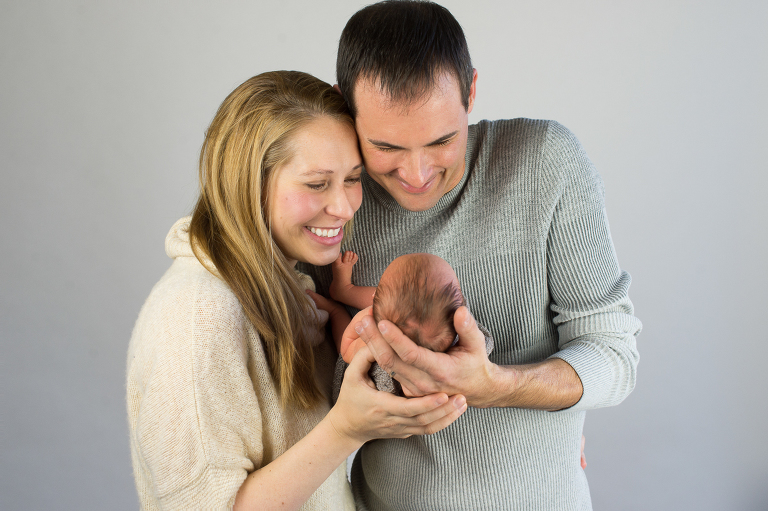 Before your photo shoot, use this list to make sure you and your wardrobe are camera-ready. 
Ladies, check your hair for flyaways — sometimes the tiniest bit of product applied to flyaways is all you need to smooth them away. 
Guys, we generally advise against wearing light-colored cotton pants or khakis for one reason – they are notorious for wrinkling easily and showing those wrinkles. If you do wear them, a serious ironing will go a very long way towards making you look well put together. 
Guys, double check that your undershirt is not showing around your collar or hanging out at the bottom of your shirt.
If you wear anything black, especially cotton, use a lint roller. Better yet, bring one with you so we can use it on the spot immediately before your shoot. White lint on a black dress will show very clearly in a photograph, even if you don't really notice it in real time. 
Everyone, make sure your nails are well groomed. Women, chipped nail polish is not a good look. A touch-up on the day of your photography session will make you look perfectly polished. 
Moisturize. Give your skin every opportunity to shine. Face, hands, feet, elbows, knees, décolletage. Moisturized skin is healthy-looking skin.  
Audit your jewelry. Ask yourself if every piece of jewelry you're wearing is something you specifically want in your portraits. Generally, we don't think you will regret not wearing jewelry once you see your portraits, but; a few years down the road, you may regret some of the jewelry you used to wear. The major exception that we think is really important when choosing jewels to include in your portraits? Find out what it is right here. 
Men, whatever facial hair you're sporting, careful grooming before your photo shoot is key. Take care to trim your neckline, shave wherever you need to, and take care that your facial hair is nice and neat. 
This goes without saying for the ladies, but make sure that your bra is the appropriate color (not to be seen), and check that the outline of your bra does not show through the material of whatever you're wearing. 
For those of you in the earlier stages of deciding what to wear for your portrait session, we have got lots of tips to help get you started. Check out our wardrobe tips just for the men, our number one piece of advice for dressing your baby, how to plan a styled glam photo shoot, tips for choosing a winter wardrobe, why we think you should choose a neutral color palette and why simplicity in styling your session is our go-to best practice. 
Jennifer Najvar Photography specializes in photographing mothers-to-be and their new babies in our central Austin studio. Reach out during your pregnancy to check availability around your due date, and we'll be happy to help you start planning your maternity, newborn, or baby portrait sessions.